The next edition will take place on Saturday 18 March! Book your tickets now and join us for an exclusive evening at LEGO Discovery Centre!
A building contest will be organised during this special event. This competition is open to everyone, whether you are a novice or a professional! To register, go to the bottom of the page and follow the instructions!
The theme of the Adult Night will be: Space!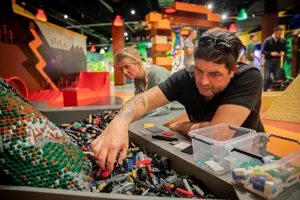 Have you ever wanted to visit the LEGO Discovery Centre but don't have any child to come with you? Or you just want to spend an evening with other LEGO enthusiasts? 
The Adult Night organised in our LEGO Discovery Centre is the perfect occasion for it! Come and spend an original moment with other LEGO® fans, your friends, date, or colleagues.
Construction and discovery will be at the heart of this exclusive evening!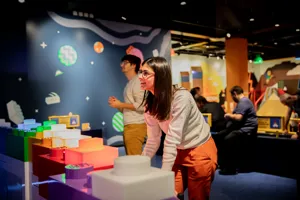 Be a child again
Whether you are a LEGO expert or just want to see what those colourful bricks can build, the adult night will leave you wonder in this indoor LEGO® world! Let your imagination run wild with the various building activities led by our Master Model Builders and Playmakers during the evening, especially created for the event.
During the whole evening, you will have the opportunity to explore freely the LEGO Discovery Centre. Visit our MINI World, test your LEGO vehicle on our ramps and conquer space with your own spaceship! You'll also have the occasion to watch one of our exclusive LEGO movies in our 4D cinema!
"It is fantastic that we as adults get the chance to just visit the LEGO Discovery Centre. I built a pumpkin carriage and it turned out to be to the favorite of the judges. I got to add my build to Mini World"
Guest of the first Adult Night
Includes access to the specific activities for adults led by one of our Master Model Builders & all build and play experiences, attractions, and 4D movies, with the exception of the soft play area and the climbing wall
You need to book a time slot to have access to the LEGO Discovery Centre with this ticket
Please Note: Participant must be 18+
Join our building contest!
Participate in the building competition organised by LEGO Discovery Centre during this second edition of the adult night!
Interested? Don't wait and send us an e-mail with the following information: name, surname, booking number and language to info.brussels@legodiscoverycentre.com Please make sure to mention "ADULT NIGHT BUILDING COMPETITION" as subject of your email.
You will need your booking number to complete your registration. This means that you must have already booked your tickets for the adult night of the 18th of March, otherwise we will not take your registration into account. You'll find this number in the mail containing your tickets.
Please note:
The number of places is limited. Registering does not guarantee you a place in the contest. We will get back to you by mail to let you know if you are in the competition or not.
By joining this contest, you might not be able to take part to all of the activities of the evening.