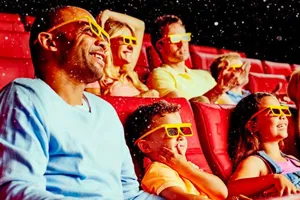 4D CINEMA
Prepare to be blown away by an incredible 4D cinema experience! Enjoy an immersive adventure like no other! Whether it rains, winds or even snows in the film, it will also happen in the theatre thanks to its own weather system!  
Two exclusive LEGO films are currently playing! You can choose between "LEGO City 4D - Officer in Pursuit!" (Silent film) and "LEGO® NINJAGO® - Master of the 4th dimension" (available in Dutch and French ONLY). From August 19, discover the exclusive new 4D film "LEGO® DREAMZzz™: Z-Blob rescue rush"!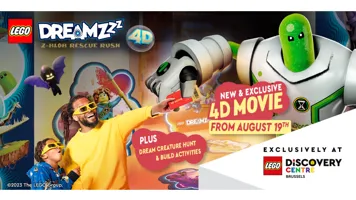 LEGO® DREAMZzz™ : Z-Blob rescue rush!
From August 19, your favorite LEGO® DREAMZzz™ characters come to life in 4D in a new family adventure. Exclusive to the LEGO Discovery Centre, for a limited time only.