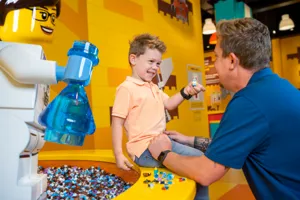 MINIFIGURE CREATOR
Start your adventure in the LEGO® World by creating your own companion who will follow you throughout your journey in the different areas of the attraction. You'll be able to customize your Minifigure with a torso, a head, legs, and a hat! There's something for everyone!  
Take some pictures of your Minifigure in the different interactive zones and terminals in the attraction.
Exclusively until the end of March 2023: you can bring your Minifigure home to have even more adventures with your companion!