General information
Visit the LEGO® Discovery Centre Shop.
You don't need an entrance ticket to visit the LEGO® Shop.
Open from 10:00 everyday.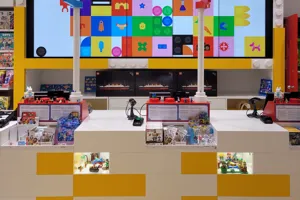 LEGO® SHOP
Our shop is filled with great products. We sell the full LEGO® range, including some exclusives! We also have the latest LEGO products, including LEGO Harry Potter, LEGO Star Wars, LEGO City & LEGO Friends.
Looking for that one stone? Take a look at the Pick a Brick wall, chances are you can find that one missing brick there. Always wanted to know what you would look like as a minifigure? Assemble and customize your own minifigure.
With so many different products, there really is something for everyone!
GOOD TO KNOW
LEGO Discovery Centre annual pass holders get a 5% discount on selected items. Discount does not apply on already discounted items.
After a purchase in the store, it is not possible to load points on a LEGO VIP card. As compensation, a 5% discount is offered for LEGO VIP members.
Gift cards are not sold in the shop and we do not accept LEGO gift cards as a method of payment in the shop.
Discounts can't be combined.